Kinetic Analysis of Wrist Joint
Masaaki kajisako
Background
The wrist fracture and dislocation are diagnosed by a static radiographs but we think that functional diseases like a ligament injury can be easily diagnosed by a dynamic radiographs. We considered to analyze the detailed movement of the wrist and we are examining about how analyzing method is effective.
Research
〈The wrist joint movement from a flexion to extension〉
The dynamic images were taken while subjects moved their wrist from a maximum flexion to maximum extension position for measuring the angles of the radius-lunate and the lunate-capitate. Also we measure the flexion angle.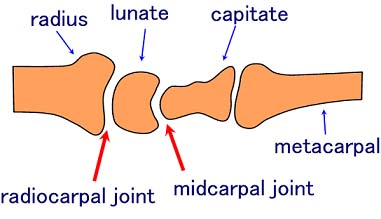 The wrist joint of lateral image
We analyzed that the contribution of the radiocarpal and midcarpal joint.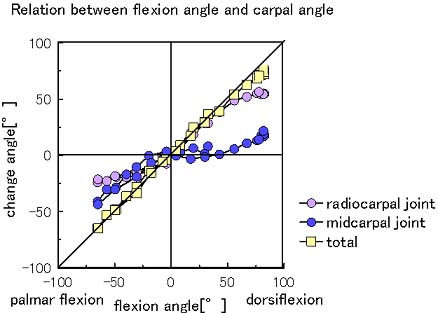 〈The wrist joint of rotation〉
We took dynamic radiographs of rotation, and we study analyzing of axis of rotation and 3-D reconstruction using sinogram. We can reconstruct 3-D image and MPR image.